Hey there! Today I am beyond excited to introduce Steph from Make and Tell! I just love her and all her amazing DIY projects she creates. They are fresh and modern. Steph has such passion for life and making beautiful things.
These DIY Striped Coasters she made are fabulous!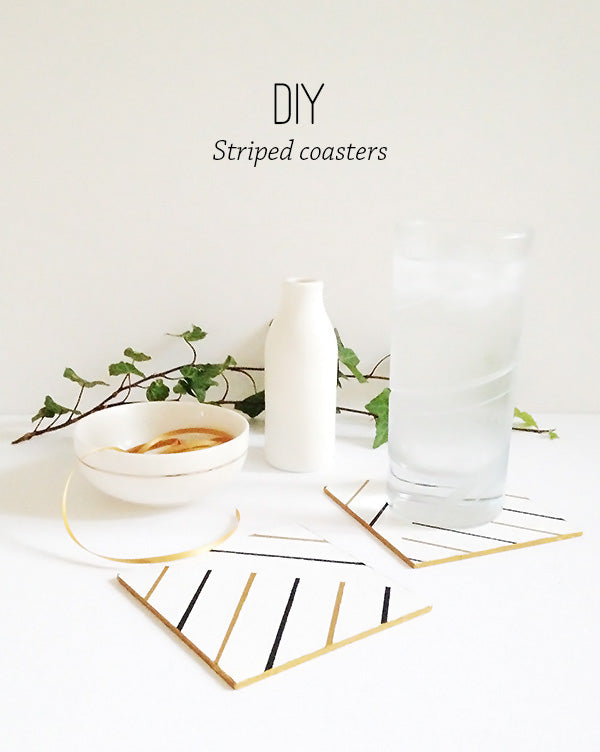 Like a proper mad-DIY-lady, I have a million odds and ends lying around my sorry excuse for a studio. It's one of the reasons that the room is in such a sad state, because there's so much STUFF – none of it coordinated and all of it taking up way more space than it should.
Recently out of sheer frustration, I got this sudden urge to clean (a rare thing, trust me) and while I was unearthing items to donate or chuck, I found some MDF coasters from waaay back when (so far back I don't even remember where I got them from!). So I decided to put them to good use, and since I've been on a bit of a gold-black-white kick lately, I thought a clean and simple striped gold and black pattern might be just the thing to decorate them.
This is a fairly straightforward DIY, but requires a bit of time since paint takes awhile to dry. If you're down with that though, the rest is pretty simple so why not grab a paint brush and give it a go!
Materials
MDF coasters
Primer
White, gold and black acrylic paint
Painter's tape
Paintbrush
Varnish
Step 1
Since we're working with MDF, it's a good idea to prime your coasters, otherwise the white paint will just soak right in and you'll see the brown colour coming through. Once you've given the coasters a few coats of primer, paint them white.
Step 2
When the white paint has dried, use painter's tape to mark out stripes on your coasters. I placed the tape so that there was one set of thin stripes that went diagonally two-thirds up the coaster, then another set of stripes that cut across in the other direction.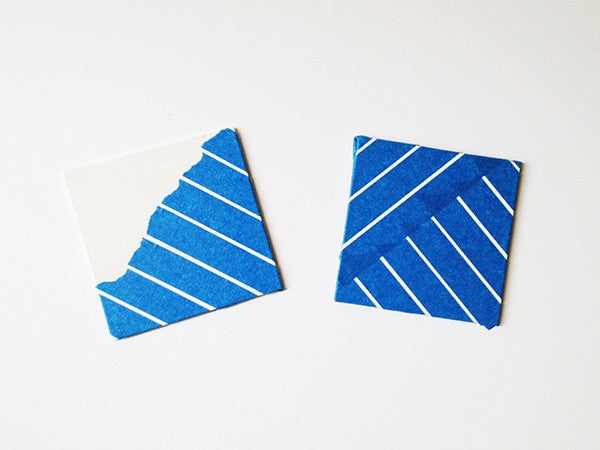 Step 3
Paint in your stripes, alternating between black and gold. The key here is to make sure your painter's tape is well stuck to the coasters before you start painting. Otherwise, you'll end up with a painful amount of touching up to do once you remove the tape (uh huh, that's me speaking from personal experience).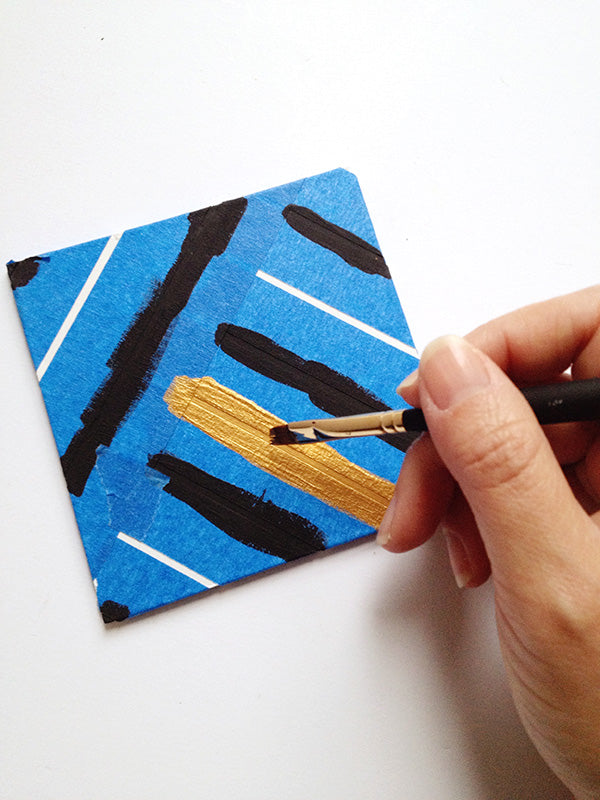 Step 4
Peel off painter's tape to reveal the stripes. If there are any wobbly bits where the gold or black paint got in under the tape, touch up by painting over those bits with white paint.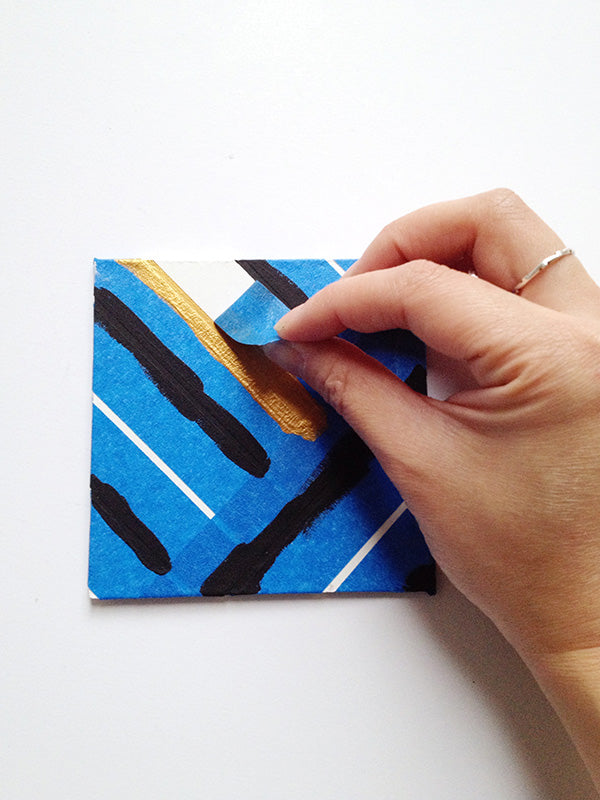 Step 5
Once your coasters are fully dry, place painter's tape along the sides on both the front and back of the coasters. The tape will stop the faces of the coasters from getting marked when you paint the edges gold.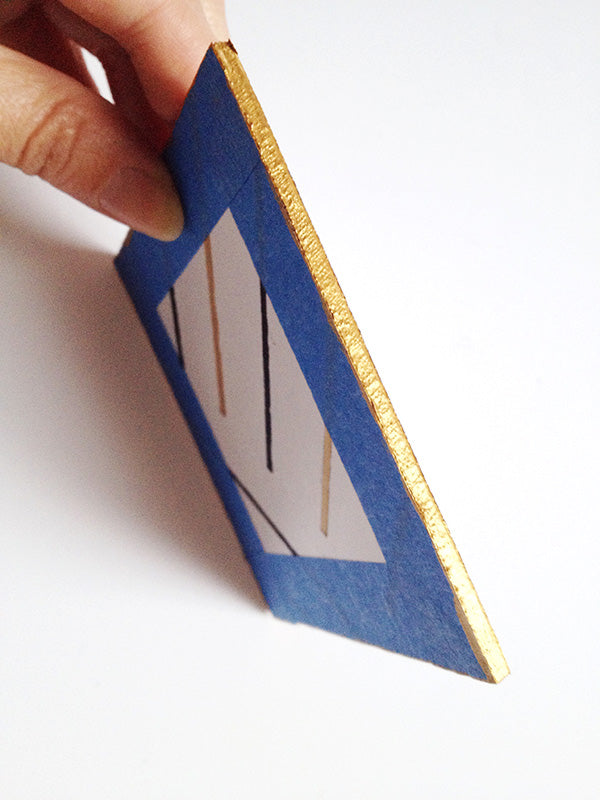 Step 6
Lastly, spray your coasters with a coat or two of varnish to protect them from moisture and general wear and tear.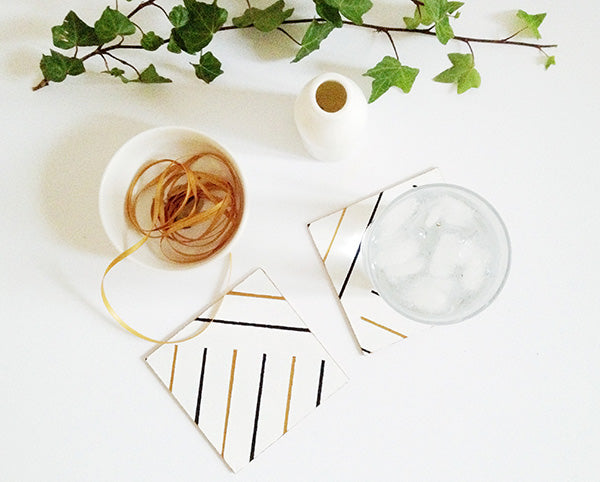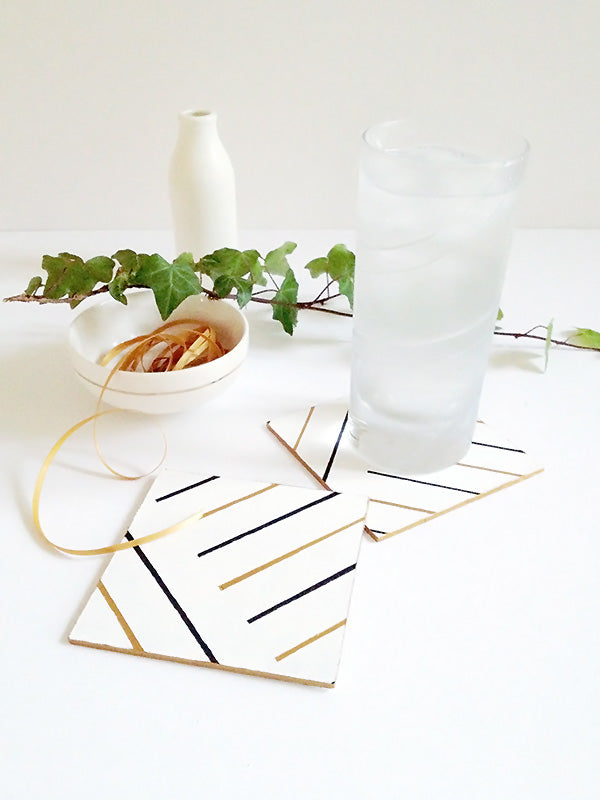 And once everything's dry, you're done! Much better than the bits of bare wood that were taking up space in my studio… now at least I have an excuse to drink a pretty cocktail while I put my new coasters to good use. 🙂
xx Steph
Thank you SO much for sharing today, Steph! Isn't she creative?! Make sure you stop by and show her some love:
Facebook | Pinterest | Instagram | Bloglovin'
Here are some of my favorite projects over at Make and Tell:
Make Your Style | Printed Tote Bag
Make your decor | Pattern Pencil Cup
Make + Give | Speech bubble gift tags